Welcome to St. Mary of the Assumption
Where the faithful come together as a Parish Family to worship our Lord Jesus Christ and maintain a loving devotion to his Blessed Mother Mary.
We strive to carry out the Mission of Jesus Christ to Know God through Scripture and Prayer, Encounter God through Liturgy and the Eucharist, and to Love God through Service.
Keep a pulse on what our Parish Family is up to
Mass Book
The 2024 Mass Book is opening in July on the 10th.
Weekly Bulletin
Browse the current and past bulletin archives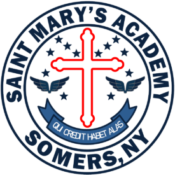 He who believes has wings. St. Mary's Academy will offer Information sessions on Thursdays at 3:00 PM. To make an appointment, call Courtney Meyerer 914-232-5061,
There are many ways to help our cause
Donate
As with your own family, it takes resouces to keep the houshold humming along. Our Parish Family is no different. We need help in many ways and ask that you consider contributions in the form of time, talent, and treasure.
Volunteer
We are all blessed with the Gifts of the Holy Spirt. Bring your gifts and your joy to help our Parish Family