[a one sentence mission of what St Mary's stands for]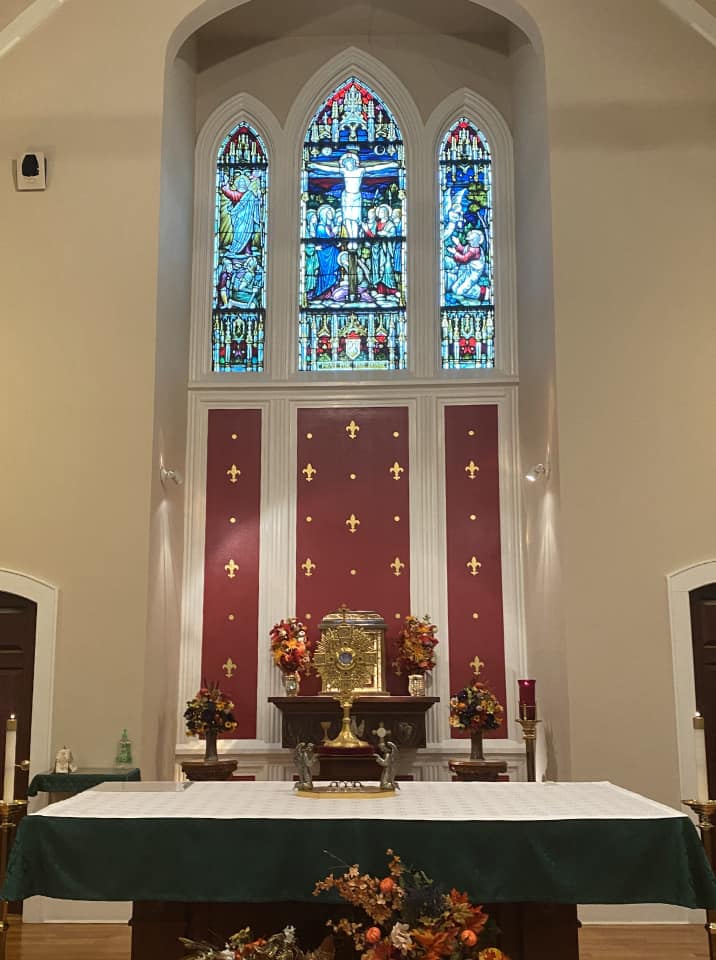 First constructed in 1890, St. Mary's Church in Katonah was one of the later buildings to be moved from Old Katonah to New Katonah. 
Unlike many other buildings which were moved intact, the church was dismantled and reconstructed on its new site in 1901.
Designed in the Gothic style, the church is two stories high on its northeastern façade, five bays wide and five deep.
Attached to the church is a three-story bell tower in a square shape with a bell cast roof at its north west corner.
A large lancet window adorns the main façade, ogee-arched stained glass windows are on the sides and rectangular windows elsewhere on the church.
Louvres cover the third story tower openings and the porch on the front façade is surmounted by a gable roof with turned posts and trefoil decoration.
Through our devotion to Mary, Our Lady of the Assumption, we strive to carry out the Mission of Jesus Christ to Know God through Scripture and Prayer, Encounter God through Liturgy and the Eucharist, and to Love God through Service.
Fr. Mark G. Vaillancourt
Pastor
Fr. Vincent Paul
Parochial Vicar
Deacon George Chiu
Deacon
Deacon Stephen DiGangi
Deacon
Maggie Kenyon
Religious Education Coordinator
There are many ways to contribute to the well-being of our faith community so our mission efforts thrive; and that we might hand our traditions down to the next generation
Donate
As with your own family, it takes resources to keep the household humming along. Our Parish Family is no different. We need help in many ways and ask that you consider contributions in the form of time, talent, and treasure.
Volunteer
We are all blessed with the Gifts of the Holy Spirit. Bring your gifts and your joy to help our Parish Family